[back] / [Parade Top (Eng. ver) : (Jp ver)] / [next]
Parade Entries Description
Entry No. 136 - 144

136. Beelby Family

This six-horse hitch of black Percherons is owned by the Beelby family. The Beelby have been involved with draft horses for five generations.



--- 137. High River Old Time Ranch Rodeo

In it's eighth year, the High River Old Time Ranch Rodeo brings to life a historic grass roots rodeo. This is truly where "rodeo" began.



---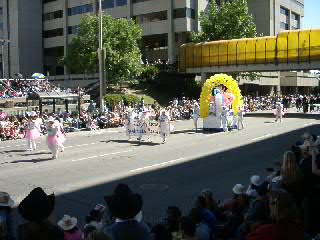 138. Calgary Dental Assistants Association

This association has been in existence since 1980 and takes pleasure in helping Calgarians in the community.



---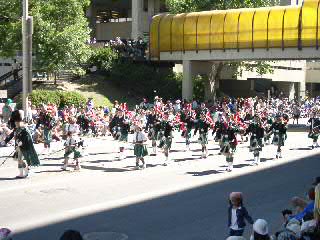 139. Clan Maxwell

This 35-member band is comprised of Maxwell family members and associates. It participates in approximately 20 parades in Alberta each year and last year took part in a massed pipe band in Edinburgh, Scotland.



---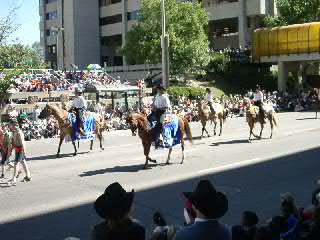 140. Blue Bronna Wilderness Camp

This is a non-profit organization provideing an extreme wilderness camping experience in Kananaskis country with a Christian perspective.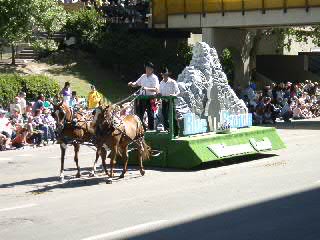 ---

141. Municipality of Peachland

This float resembles an Okanagan sternwheeler form the turn of the century. Peachland's ambassadors and vice-ambassadors are riding on the float.



---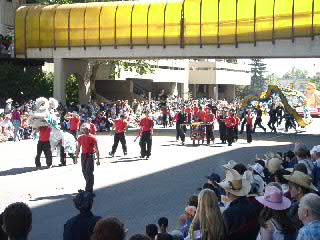 142. United Calgary Chinese Association

This is the year of the Golden Snake. The dragon and lion dancers are leading the snake, which symbolizes wealth, health and good forture.



---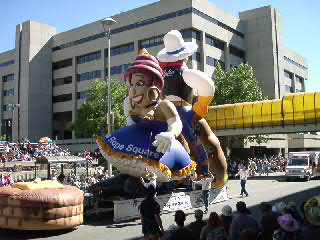 143. Fluoe Canada Ltd.

Here are the 24-foot inflatable Jake and Jackie. You can also find them downtown at Rope Square during Stampede. Read more on Rope Square in the back of the program.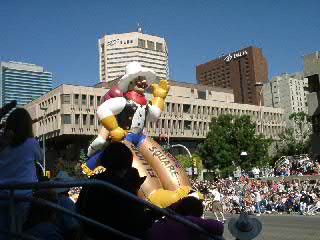 ---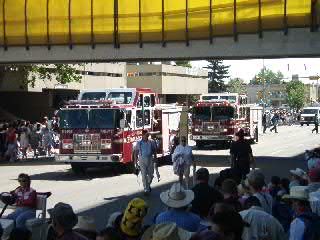 144. Calgary Fire department

Two of Calgary's pumpers put the final touches on the 2001 Calgary Stampede Parade.



---
---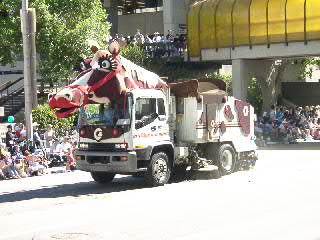 Pooper Scooper(bonus)

This cleaning car is decolated as horse.



---
[back] / [Parade Top (Eng. ver) : (Jp ver)] / [next]
---
mail Last modified: Wed Sep 26 00:55:29 JST 2001