Changing 25-Cent Coins
---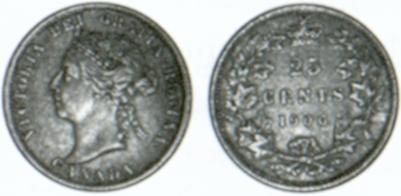 1870-1901
The First 25-Cent coins are minted in 1879. Queen Victoria is on the obverse. On the reverse, "25 Cents" and the date are topped by St. Edward's crown and circled by boughs of maple.

---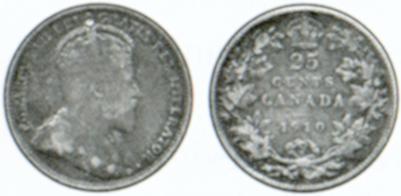 1902-1910
King Edward VII replaces Queen Victoria on the obverse. "Canada" moves form the obverse to the reverse.

---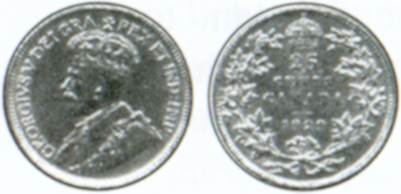 1911-1936
King George V replaces Edward VII on the obverse. "Dei Gratia" was accidentally left off the obverse in 1911. It was returned in 1912 as "Dei Gra:".

---
By the beginning of 1937, the dies for George VI coins had not arrived, so coins minted in 1936 had a dot placed by the date to show that they had been miinted in 1937. These coins are rare and highly prized by collectors.
---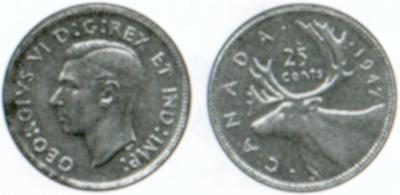 1937-1952
King George VI replaces George V on the obverse. The caribou appears on the reverse.

---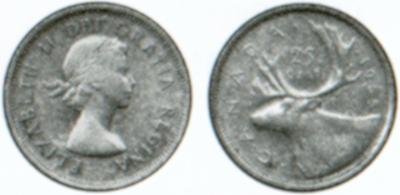 1953-date
Queen Elizabeth II replaces George VI on the obverse. The design is updated in 1965 and 1990.

---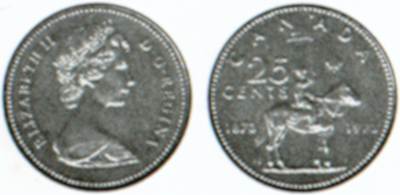 1973
The reverse honours the 100th anniversary of the Royal Canadian Mounted Police.

---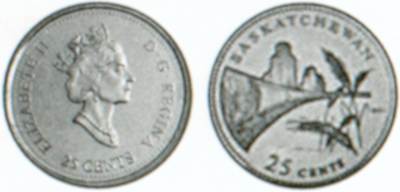 1992
12 reverse designs featuring the provinces and territories were released to celebrate the 125th anniversary of Confederarion.

---
メールはこちら♪
Last modified: Sun Apr 24 21:10:49 JST 2005